With a SPECIAL project-based training program with: 40% Theoretical learning - 30% Practical learning at Workshop & Laboratory - 30% Practical learning at construction sites, Faculty of Civil Engineering determines that it always accompanies external businesses and companies.
On the afternoon of September 9, 2022, Mr. Nguyen Thanh Trung - Vice Dean of FCE worked with Mr. Nguyen Hong Quan - Deputy Director and Mr. Tran Minh Sang - Southern Manager of ZWSOFT Vietnam Co., Ltd. towards comprehensive cooperation between the company and the faculty as well as Lac Hong University.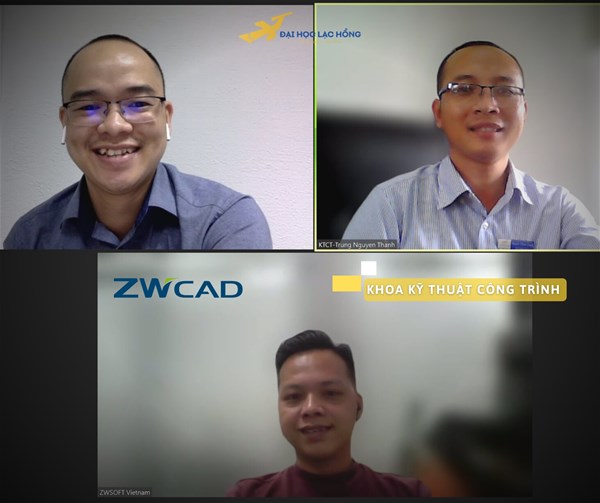 ZWSOFT CO., LTD. (Guangzhou) is a reliable supplier of all-in-one CAx (CAD/CAM/CAE) solutions with self-developed 2D CAD, 3D CAD/CAM and electromagnetic/structural simulation technologies. Committed to improving CAx technology, ZWSOFT has established 6 R&D centers in Guangzhou, Wuhan, Shanghai, Beijing, Xi'an and Florida as well as independently developed Overdrive, a 3D geometry model.
Based on its advanced CAD/CAM technology, ZWSOFT has dedicated itself to education. From compiling textbooks, developing curricula to building training workshops, ZWSOFT has responded to educational reform requirements and has provided solutions for architectural and mechanical majors. gas as well as innovative 3D printing practices for more than 3,000 tertiary and vocational training institutions. Meanwhile, ZWSOFT has served more than 70,000 schools with innovative educational software, courses and services for youth across the country.
In the future, ZWSOFT will invest more in R&D of core CAx technologies and build reliable all-in-one CAx solutions with 3D CAD geometry modeling kernel technology. Moreover, ZWSOFT will establish a sustainable and all-win-win ecosystem for the industry and contribute more to the development of high-end engineering software system.